https://coloradorenaissance.com/
As you wander down the village streets and pathways of the Colorado Renaissance Festival, ready thyself to revel with master revelers, watch artisans create original works of their ancient craft and be taken in by the tantalizing aromas of roast turkey legges, steak on a stake, fresh baked goods and much more. Featuring a cast of hundreds of authentically costumed merrymakers living and working throughout the village and performing, continuously, upon the Festival's seven stages, the illusion of a rollicking 16th Century festival day is created.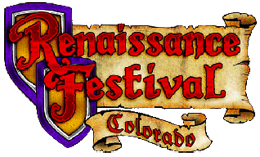 Fast Facts
Where is it? 650 Perry Park Ave, Larkspur, CO
When did it start? 1975
When does it run? July 3, 2021
Artisans & Entertainers
Categories: Artisans, Clothing, Costumes and Clothwork
Jiva Originals is celebrating 30 years of providing unique and exciting costume and evening attire in Renaissance, Gypsy, Belly Dance, Pirate, and Mardi Gras styles.